Our San Sebastian Cheesecake is based on the original recipe and made with just a few high-quality ingredients to produce its signature rich and creamy texture. Gourmet while remaining sophisticated, it is also easy to personalize and to use, according to the chef's inspiration or the season.
A well designed frozen Food Service product, created just for you.
Coffee shop, Commercial catering, Take-away, …
Are you interested in this product?
Do you know the history of the Burnt Basque Cheesecake ? As the name suggests, the San Sebastian Cheesecake is from the city of San Sebastian, in Spain's Basque area. It was a San Sebastian-based restaurant called La Viña that served the San Sebastian Cheesecake for the first time. Today the Basque Cheesecake is enjoyed throughout the world and has conquered even the most discerning connoisseurs.
An iconic dessert from the Basque region made with only nine high-quality ingredients, to ensure a recipe faithful to the orginal, just like in a chef's kitchen.
With a caramelized top, the San Sebastian Cheesecake has a deliciously creamy center. This dessert is a perfect balance of generosity, finesse and sophistication.
It can be a good fit all year long, and is quick and easy to prepare. Anyone can make it their own, by serving it as it is or with a side, it can suit all selling options.
Our San Sebastian Cheesecake recipe
The main feature of the Basque Cheesecake is its burnt top and its smooth and creamy center. Our Patisserie chefs have worked their San Sebastian Cheesecake recipe to ensure the top is delightfully caramelized, while the plain cheese and mascarpone mixture is creamy with a touch of vanilla.
Our San Sebastian Cheesecake can be served with a red fruit coulis, a chocolate sauce or a dash of caramel and roasted hazelnuts. It is also a perfect takeaway lunch option.
Technical and logistical information
Best before date: 730 days
Use-by date after defrosting: 48 hours at +4°C (+39°F)
Packaging: 20 x 95 g (3.35 oz) units
Product dimensions: Ø 7 cm (2.7 in)
Box dimensions: 388 x 294 x 62 mm (15.28 x 11.57 x 2.44 in)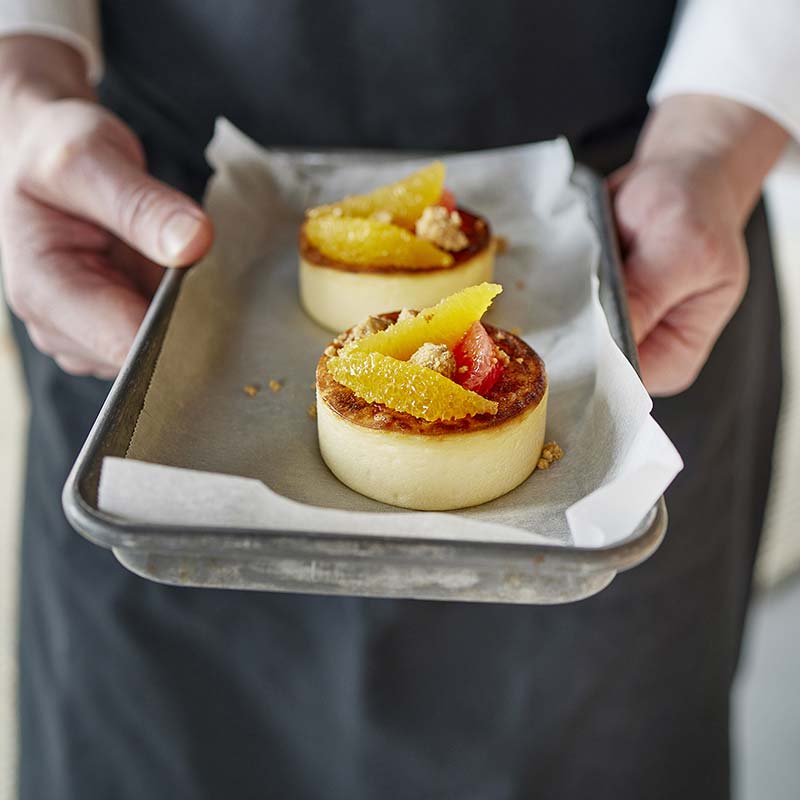 Remove the plastic film and leave to defrost for 2 hours at +4°C (+39°F).

New products available in Food Service and Cash and Carry
Traiteur de Paris product lines