Our Art Deco Petits Fours are made in geometric shapes and exotic colors. They are perfect for a caterer's buffet. The 48 Art Deco Petits Fours are ready to serve on an elegant presentation tray, and retain their shape well after defrosting.
A well designed frozen Food Service product, created just for you.
Events, Hotel industry catering, Traditional restaurant industry, Catering, …
Are you interested in this product?
Caramel choux bun, vanilla and raspberry spiral or chocolate praline Merveilleux, these recipes bridge the gap between tradition and modernity. This tray of sweet Art Deco Petits Fours is available in Food Service and Cash and Carry format.
Choux bun with crumble sprinkles, caramel cremeux, milk chocolate.
Cocoa cookie, fleur de sel chocolate crunch, chocolate cremeux.
Crumble, raspberry jelly, vanilla mousse.
Coconut cookie coconut blancmange, strawberry jelly, buttercream.
Coconut financier, almonds, mango-passion fruit compote, coconut flavored buttercream.
Meringue coated in chocolate and hazelnut, gianduja chocolate mousse, chopped hazelnuts.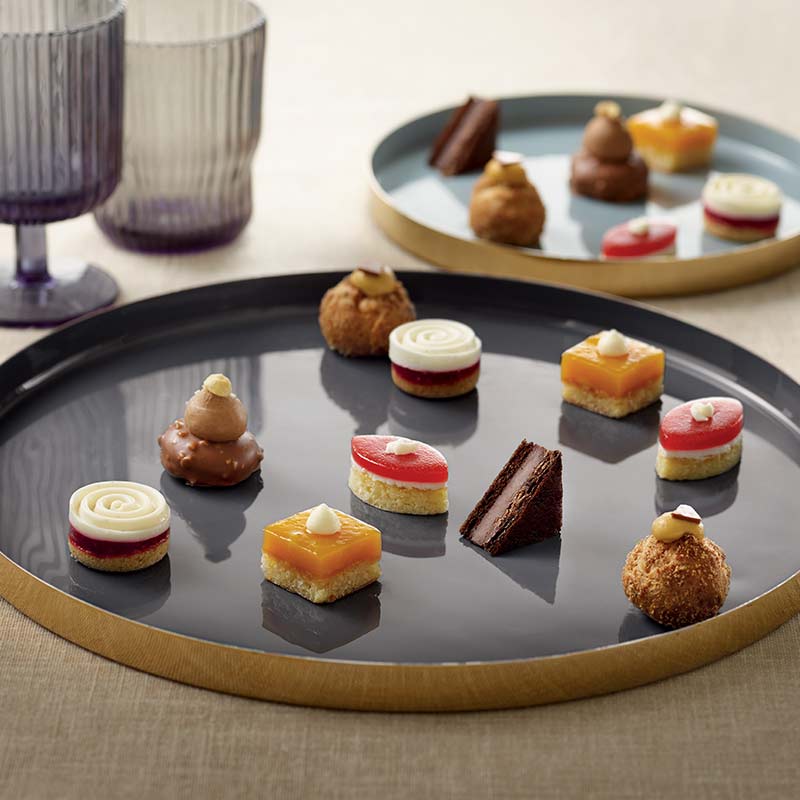 The Art Deco Petits Fours Recipe
Our Art Deco Petits Fours are made in our workshops in Brittany, with high quality ingredients. They are the result of traditional craftsmanship proven over more than 25 years. In addition, these daring recipes will be a surprise for your customers and will introduce them to new culinary horizons.
When culinary art mixes with decorative art: a tray of Petits Fours as sophisticated as they are elegant sees the light of day. The charm of Art Deco is the inspiration for the brand's pastry chefs to produce their latest creations in elegant, geometric shapes.
Technical and logistical information
Best before date: 547 days
Use-by date after defrosting: 1 day between 0 and 4°C (32° and 39°F)
Packaging: Tray of 6 x 8 items
Box dimensions: 390 x 296 x 50 mm (15.35 x 11.65 x 1.96 in)
Palletization: 280 or 350 cases
Remove the cling film and then allow to defrost for 2 h at +4°C (39°F).
New products available in Food Service and Cash and Carry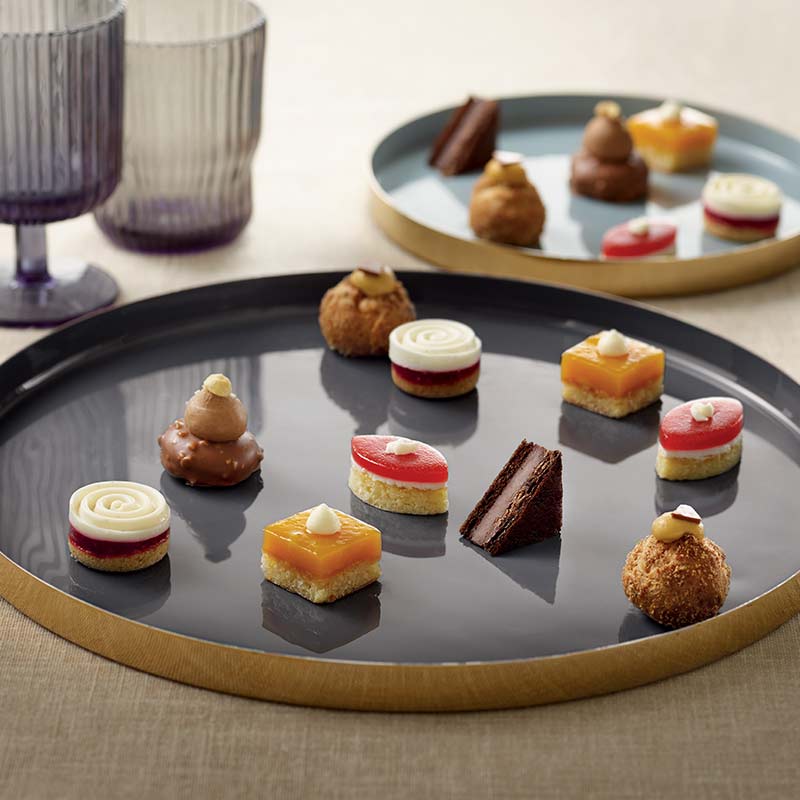 Traiteur de Paris product lines