Chocolate Passion Petits Fours
Our Chocolate Passion Petits Fours are little chocolatey pastries that would be the perfect addition to any catering buffet. They can be eaten with sit-down meals, to take away or as part of a selection of mini desserts alongside a coffee.
A well designed frozen Food Service product, created just for you.
Events, Onboard catering, Catering, …
Are you interested in this product?
Chocolate Passion Petits Fours
These four recipes see chocolate paired with complementary flavors, including caramel, praline, gianduja, coffee, and milk and white chocolate. Each pastry is made up of 3 different textures, giving your clients a real culinary experience.
Crunchy chocolate and caramel financiers (chocolate financiers, dark chocolate disk, salted caramel ganache)
Praline and gianduja lingot (hazelnut financiers, praline crunch, gianduja cream, nuts)
Triple chocolate lingot (cacao-almond cake, chocolate crunch, milk chocolate cream, white chocolate glaze)
Coffee and cream chocolate (cacao crumble, chocolate-coffee cream, white chocolate mousse, cocoa powder)
Chocolate Passion Petits Fours
Chocolate Passion Petits Fours - intense cacao
With 60% cacao chocolate as its main ingredient, the Chocolate Passion Petits Fours selection is a chocolate taste explosion.
The hand-decorated, refined and haute cuisine look of the Chocolate Passion Petits Fours range will add a touch of finesse and elegance to your buffets.
Technical and logistical information
Best before date: 547 days
Use-by date after defrosting: 1 day between 0 and 4°C (32° and 39°F)
Packaging: Tray of 48 items
Box dimensions: 390 x 296 x 62 mm (15.35 x 11.65 x 2.44 in)
Palletization: 192 or 240 cases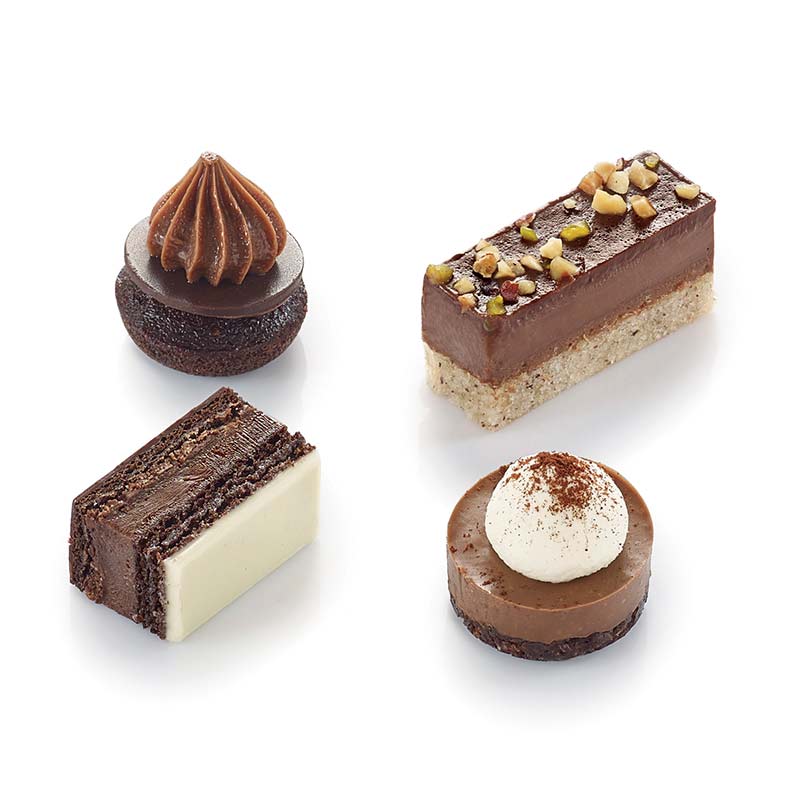 Defrost at 4°C (39°F) for 2 hours.
New products available in Food Service and Cash and Carry
Chocolate Passion Petits Fours
Traiteur de Paris product lines