Saint-Germain Petits Fours
The tray of Saint-Germain Petits Fours has 8 recipes for sweet treats with flavors as delicious as they are loved, in order to please the greatest number of people. This tray of sweet petits fours is ideal for a caterer's buffet.
A well designed frozen Food Service product, created just for you.
Events, Hotel industry catering, Catering, …
Are you interested in this product?
Saint-Germain Petits Fours
These timeless recipes, with simple yet strong flavors, are made of high quality ingredients enabling the product to hold its shape well after defrosting.
Strawberry gateau (Joconde biscuits, strawberry jelly, buttercream and strawberry compote)
Almondine with lemon zest, lemon cremeux, lemon and orange zest.
Triple chocolate square (cocoa Joconde biscuits, chocolate crunch, milk chocolate mousse, chocolate ganache,
white chocolate mousse)
Financier, apricot jelly, chopped pistachios.
Cocoa crumble, dark chocolate ganache, dark chocolate cremeux.
Caramel and cinnamon financier, Tatin-style apple compote, chopped almond decoration
Raspberry cheesecake (cheesecakes, raspberry jelly)
Opéra (coffee-soaked Joconde biscuit, coffee-flavored buttercream, chocolate ganache, chocolate icing)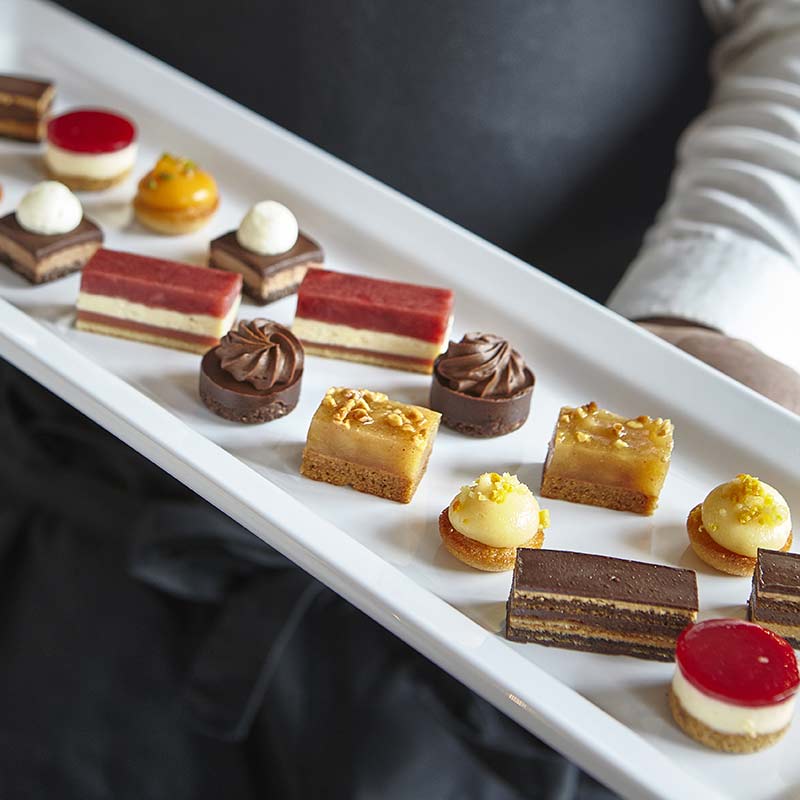 Saint-Germain Petits Fours
Saint-Germain Petits Fours, Flavors That Are Always In Fashion
This assortment, made up of simple, varied recipes, is also suitable for vegetarian diets. In addition, the ingredients making up these sweet petits fours are particularly high quality and enhanced by the expertise of our pastry chefs.
This assortment of sweet petits fours is packaged under a bell, on a rimmed tray and on a template, for better protection. The items are held in place during transport and storage. As a bonus, the bell makes it possible to store the trays on top of each other to save space.
Technical and logistical information
Best before date: 547 days
Use-by date after defrosting: 1 day between 0 and 4°C (32° and 39°F)
Packaging: Tray of 48 items
Box dimensions: 390 x 296 x 62 mm (15.35 x 11.65 x 2.44 in)
Palletization: 192 or 240 cases
Allow the Saint-Germain Petits Fours to defrost for 2 h at 4°C (39°F).
New products available in Food Service and Cash and Carry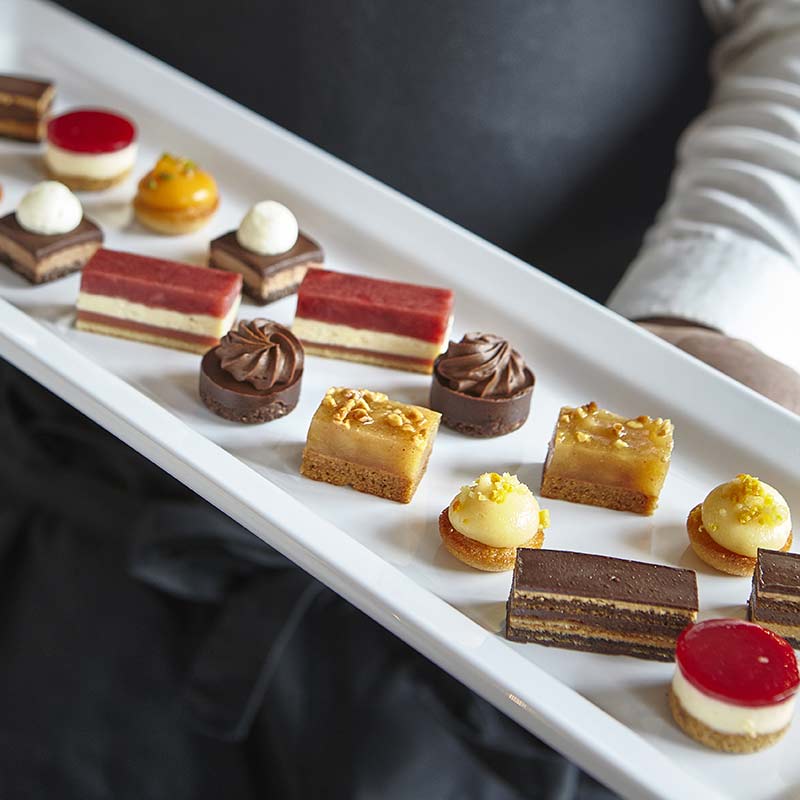 Saint-Germain Petits Fours
Traiteur de Paris product lines